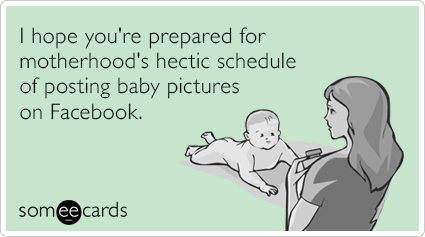 You'll never sleep again after you have a kid. I'm sure everyone has told you that. But I'm just confirming the fact that they are all correct. The thing is, before you have kids you'll be all "my kid will sleep just fine, so I'll sleep just fine" or "It's only a few months of no sleep, then it gets better". You would be wrong on both accounts.  In fact, if you don't  have kids, you won't even understand this post. Because when people say you'll never sleep again… they actually mean it. Never. Again.
And it comes in phases, and the no sleep phase starts well before the baby is even out. The last good sleep I had was May 2012. It's not like you don't sleep anymore. It's just a different kind of sleep. I've outlined in it real nice for you, because you're too tired to read anything non list formatted. I get it. don't worry.
Phases of "You Will Never Ever Sleep Again":
1. You're pregnant
It's 2am and your pregnancy insomnia just kicked in. It's 3am you're back asleep. It's 4:30am you wake up feeling like someone just took a knife and jabbed it into your hip, twisted it a bit, then kicked you in the spleen. It's 5am, you wake up because you just had a dream of the labour and the baby came out missing an eye and wtf is he ok?? Up for the day.
2. Baby arrives
8 week shit-show commences, quiet literally. Babies don't have their circadian rhythm set yet. What does that mean (because I know you aren't googling it)? It means they know fuck all about day vs. night. No word of a lie for at least 8 weeks, most likely more but the "remembering" portion of my brain just can't… I "slept" sitting up in bed with my head against a wall, in 45 minute increments for 8 weeks.
3. Circadian Rhythm Synced
So now your baby is 3 months old and he's sleeping at night. I use the term sleeping really loosely though, let's not get ahead of ourselves. Don't forget to wake him up every 3 hours to feed him. Also don't forget that feeding him takes at least what? 30 minutes?  And remember putting them back down takes time too. By the time the process is over, you lie back in bed, try to fall asleep, getting really really mad at yourself because you can't fall back asleep that fast, your anger keeps you up longer, and just as you doze, it's time to feed them again. SUCKA!
4. SIDS
God help me. If at any time your baby is actually sleeping, you are not. Because you are trying to make sure they are breathing. Because SIDS is a legit thing that even though we have computers, 3D printers, and fancy things now, they haven't eradicated it yet (I know that's the wrong word, and I don't care). So you wake up and see if they're breathing, then you go back to sleep, then you wake up 30 minutes later and repeat the process all night long. Literally, all night long until the sun comes out and you start crying because you realize that was your sleep for the night. And I don't know when this ends, because last week Max slept in until 9:30am (he's always up at 7am) and I had to go make sure he was breathing. Which is ridiculous. I'm an idiot.
5. Sleeping through the night
At about 8 months maybe? Babies are "supposed" to sleep through he night. (You know, I used to know all these stupid milestones and now I've forgotten them, and that makes me a better person). So your baby is finally sleeping through he night! Congratualtions. Don't forget SIDS. Don't you fucking sleep!!! WHAT IF THEY AREN'T BREATHING?? And every other "what if" will run through your head every time you doze until either the sun comes up or they start crying then you start crying… I mean why is he sleeping this long? He must be hungry, maybe I should go feed him, I don't know. Maybe I should bring him into bed with me so we can bond? What if he goes to college and doesn't even like me because we didn't co-sleep? How will I pay for college?What if he is never independent because we did co-sleep? What are we going to do all long boring day tomorrow?? I wonder if I'm a good mom? What if i'm not?? I wish I could make cool mom friends and not bitchy bitch mom friends. Should I go back to work or stay at home? Oh it's 7am, the day starts now. Refreshing 20 minute sleep tonight.
5.5 I am very fucking weary of the fact that your baby actually sleeps through the night at 8 months or whatever. I feel like all the moms got the email blast from Babycentre saying "your baby is now sleeping through the night!" milestone thing, and then just started telling everyone that theirs was. And at the time, you want to kill yourself because why is everyone else getting to sleep and you aren't?! It's only at 18 months now that I realize those moms/dads are lying bitches. I don't know if they lie to make themselves feel less tired, or because they want to pretend they're better than you. Probably both. Moms can be super bitches, in case you haven't gotten that yet from reading this blog.
6. Spidey Senses
Ok let's pretend that at 12 months they legit actually start sleeping through the night. YOU FINALLY DONT HAVE TO WAKE UP EVERY FEW HOURS.  Except.. .wait for it… YOU WILL NEVER SLEEP AGAIN. Who cares if your baby is sleeping through the night!? It's been so long now, why would you remember how to do that?? Your senses will never ever ever allow you to ever get back in that deep sleep mode again. Case in point, Max coughed one little tiny quiet cough at 2am, I wasn't worried, he's not sick, nothing's wrong, but mom-senses woke me up to let me know he coughed, and now even though I went to sleep at 12:30am #HugeMistake, I'm awake writing this at 2:30am because of his cough.  Literally, every single little sound no matter what, will wake you up. NO MATTER WHAT!! I don't know when this will stop!? My guess is never. My guess is my senses are super heightened for the rest of my life, and I've already had my last good sleep.